We believe this blog is a good medium not only for sharing knowledge on the brands we sell, curious facts about selvedge denim, or ideas for outfits, but also to give visibility to situations that we, as a small business, often have to face.
We want to share things we've learned that we think are of interest for you to know about, and that some of you will perhaps find useful or will inspire you if, like us, you own a business or are thinking of setting one up.
---
We normally tend to share only the friendly side of the things that happen to us, and social media is a good example of this. In our case we share positive reviews by our clients, how quickly a product has been sold, the number of orders we prepare each day… but we should all know that this does not represent 100% of the day-to-day reality.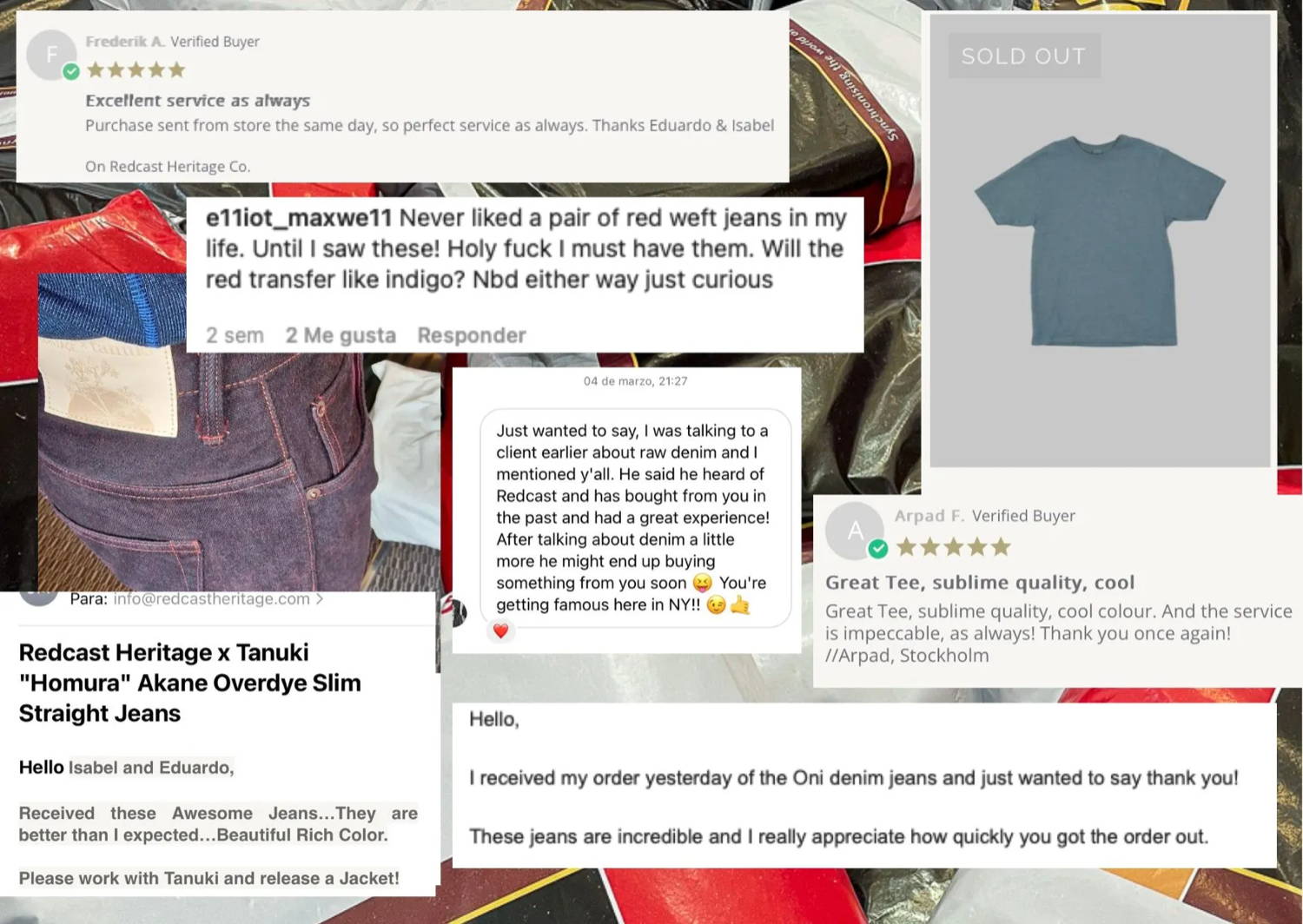 Last week we received an email from a customer who was disappointed with our customer care service because we had not answered their query as quickly as they expected. They wanted to acquire a pair of jeans but hesitated over the size and, in the time it took for us to answer, their size went out of stock.
We understood their fury at their size going out of stock in such a short time, but we explained that, as we inform in our auto-reply emails, the customer care service hours are M-F from 9 am to 7.30 pm. Despite this, it was a Sunday afternoon (outside service hours) and Eduardo and I were working from home on answering emails, among them this customer's, which they had sent us only the day before.
The customer was not satisfied with our answer. They could not understand that we had not answered on a Saturday morning, when that is a day when shops are open.
This led us to several thoughts that we want to share – here are some of our LEARNINGS 📖
1️⃣ The first of them –which we also shared with the customer– is that, even though our online shop is open 24/7, we who work at Redcast are not available 24/7.
At Redcast there are few of us doing the work of many –customer care, daily contact with suppliers, launching new ideas and products, preparing orders, managing social media; and as in any business –whether online or offline– we believe we need to work a certain number of hours and have leisure time for enjoying, disconnecting, getting inspiration… something which, in our opinion, is essential so that we can go back to work with eagerness and thus provide a better service.
As entrepreneurs, Eduardo and I spent several years working tirelessly, even feeling guilty whenever we took an occasional break. However, we reached the conclusion that this did not make our business better but quite the opposite, since it caused us high levels of stress and exhaustion and, consequently, demotivated us.
2️⃣ If there is one thing we can all agree on, it is that running a business is no easy task, and in a shop such as ours, customer care is one of the biggest challenges.
In this regard, we want to give visibility to the frustration, for both owners and workers of a small business, of dealing with unhappy customers and being faced with comments or criticism that are occasionally unjustified. It can sometimes be very discouraging…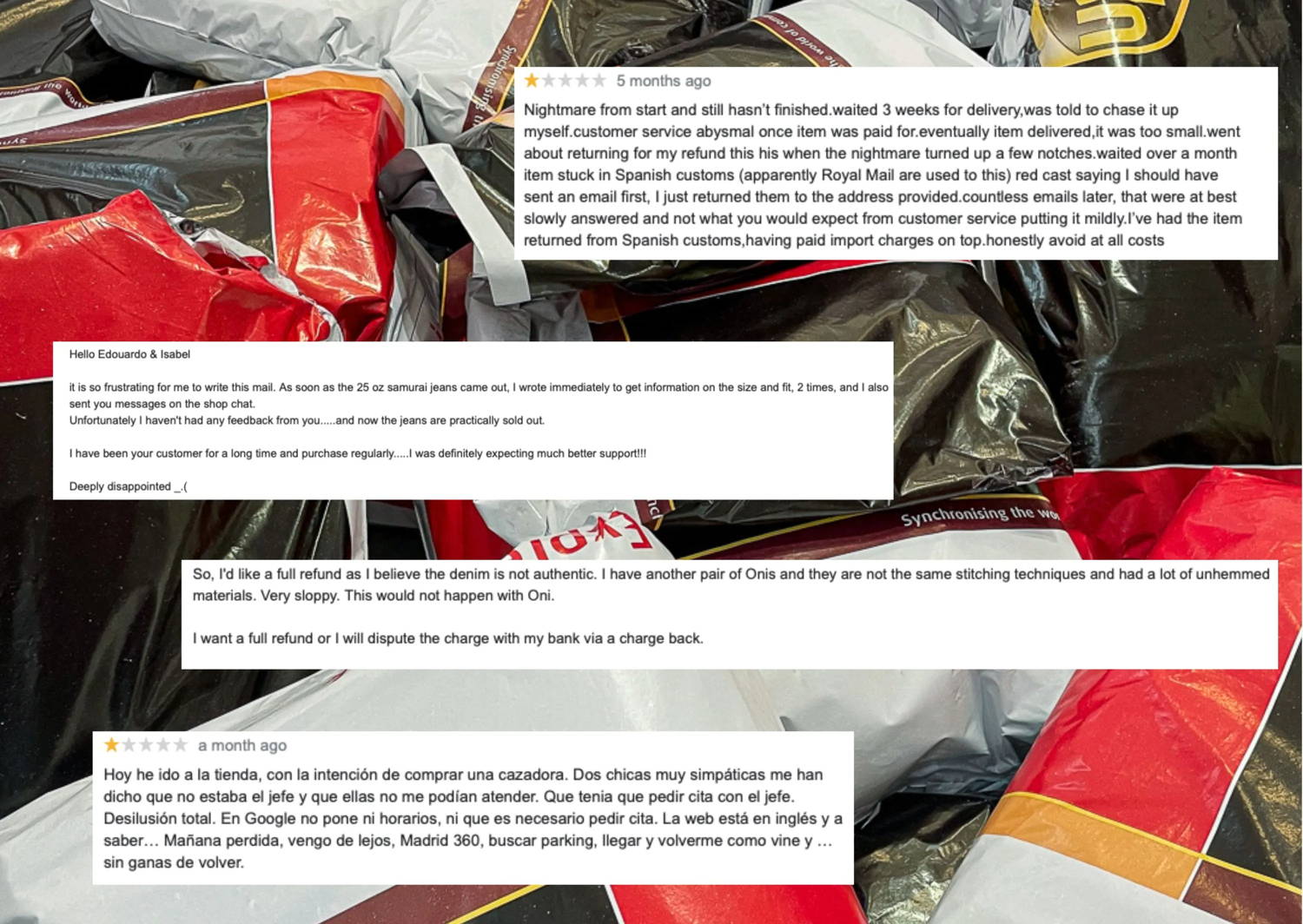 However, we believe that it is all useful, even more so when it involves our customers' feedback.
Of course we make mistakes, so keeping all of our customers satisfied is no simple matter, but we do want to emphasise that if there is one thing where we make a daily effort at Redcast, like many other businesses, it is, insofar as we are able, to give you the best experience and customer care.
3️⃣ As a last thought, we know that it may be complicated but, between us all, we need to make an effort to learn to differentiate between buying from a small business and from a large ecommerce platform. Sometimes customers demand from businesses such as ours the same conditions offered by other giants in the sector (free shipping and returns, 24-hour customer care, etc.) without taking the size of the shop into account, or that your order comes from another country, or that the production costs of those products you buy are high and therefore profit margins are smaller…
Those giants have spoiled us and we would like to raise awareness that the reality faced by the vast majority of businesses such as ours across the world is totally different.
We hope you've found this post of interest. And if you want us to write more about these kinds of topics, please let us know in your comments👇 Thank you for reading us!